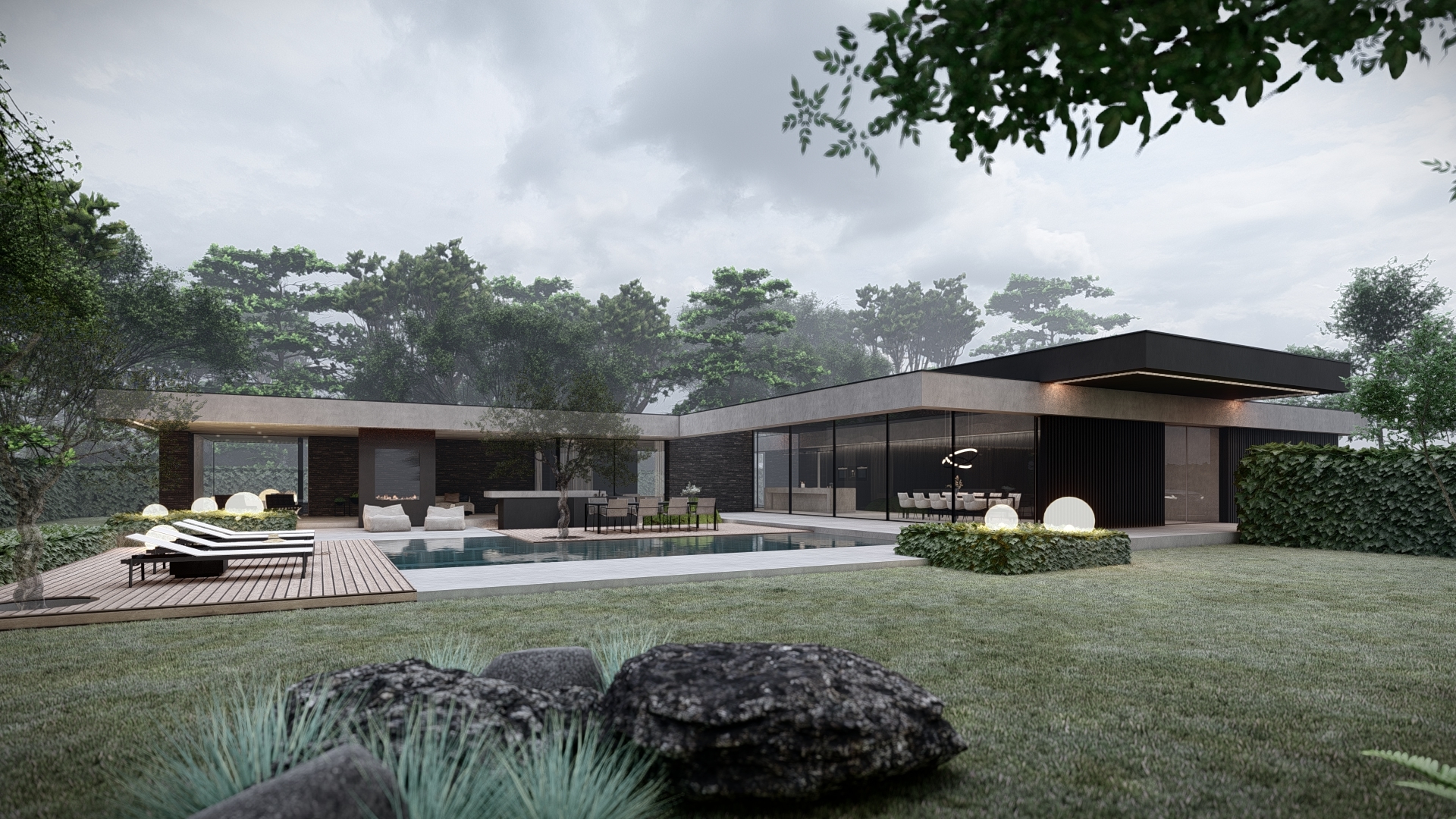 Level
house
Level
house
01 /
Project informationPERIOD
2022TYPE
RESIDENTIAL, VILLALOCATION
THE NETHERLANDSSIZE
300m2STATUS
IN PROGRESS
Amidst the ever-rushing world, a serene oasis beckons – Level House, an epitome of architectural quality and natural harmony, all on one level. Enter a new definition of bungalow elegance and refinement, where tranquility is elemental.
When designing Level House, the layout of spaces has been carefully synchronized with the rhythm of daily life. Step by step, the functions unfold – from the living wing, with the spacious open kitchen and inviting living room, to the sleeping wing, with the ensuite bathroom and master bedroom.
Download brochure
inside
outside living
blurring the line
The true strength of Level House lies in the seamless extension of the kitchen and living room – with an outdoor terrace and inviting pool. With large glass sliding doors, the boundary between inside and outside blurs. Here, residents can enjoy the embrace of nature, designed in luxury and comfort.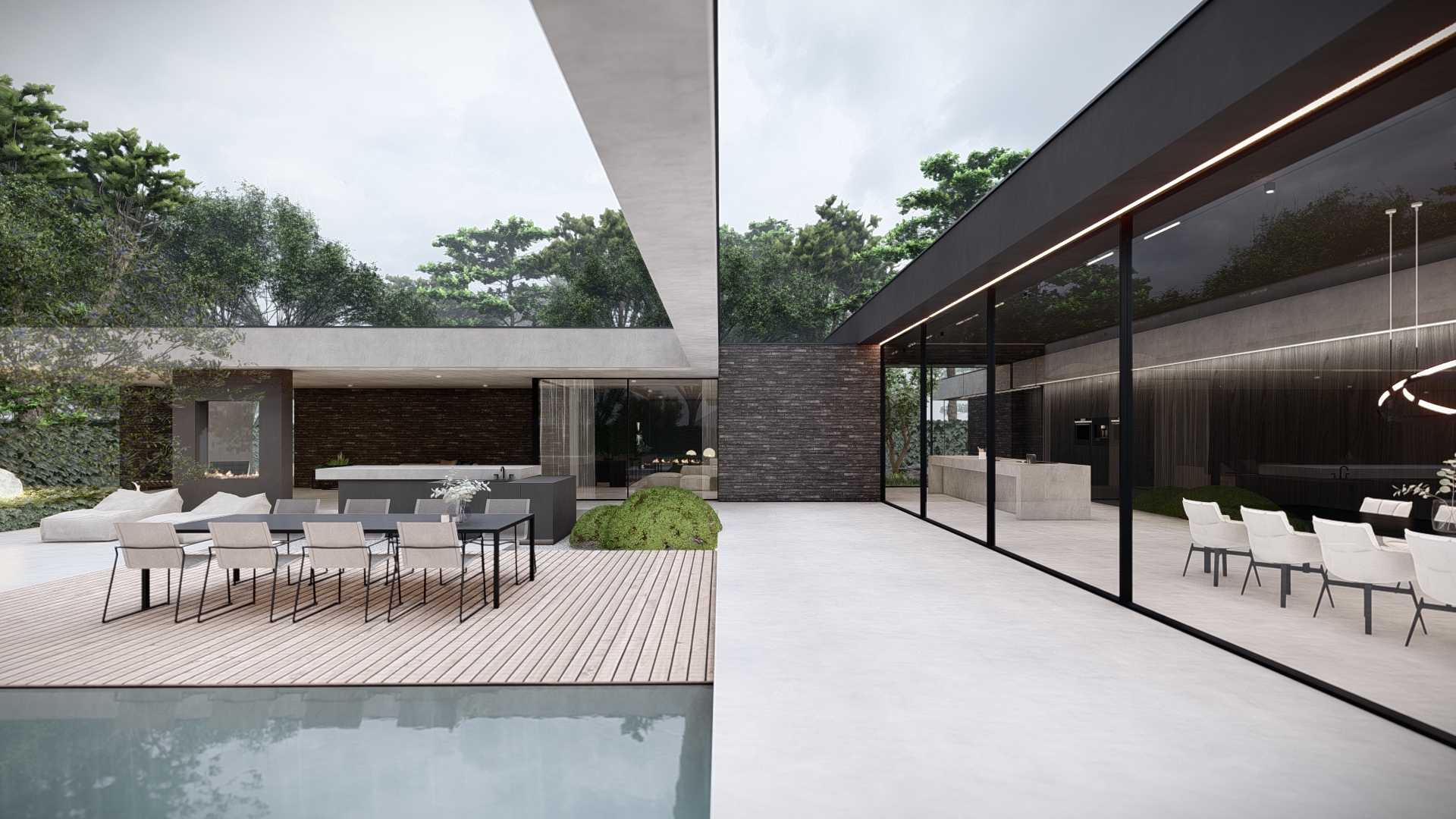 fading the border between inside and outside
Used materials
Only the
essential
Polished
concrete
GROUND FLOOR 0
All functions are on the same level, creating a maximally connected space to live. Routing is one of the most important aspects considered in the design process. The villa is shaped precisely to the routine of the client. And with one clear route all functions are connected, for an optimally comfortable living space.
DOWNLOAD BROCHURE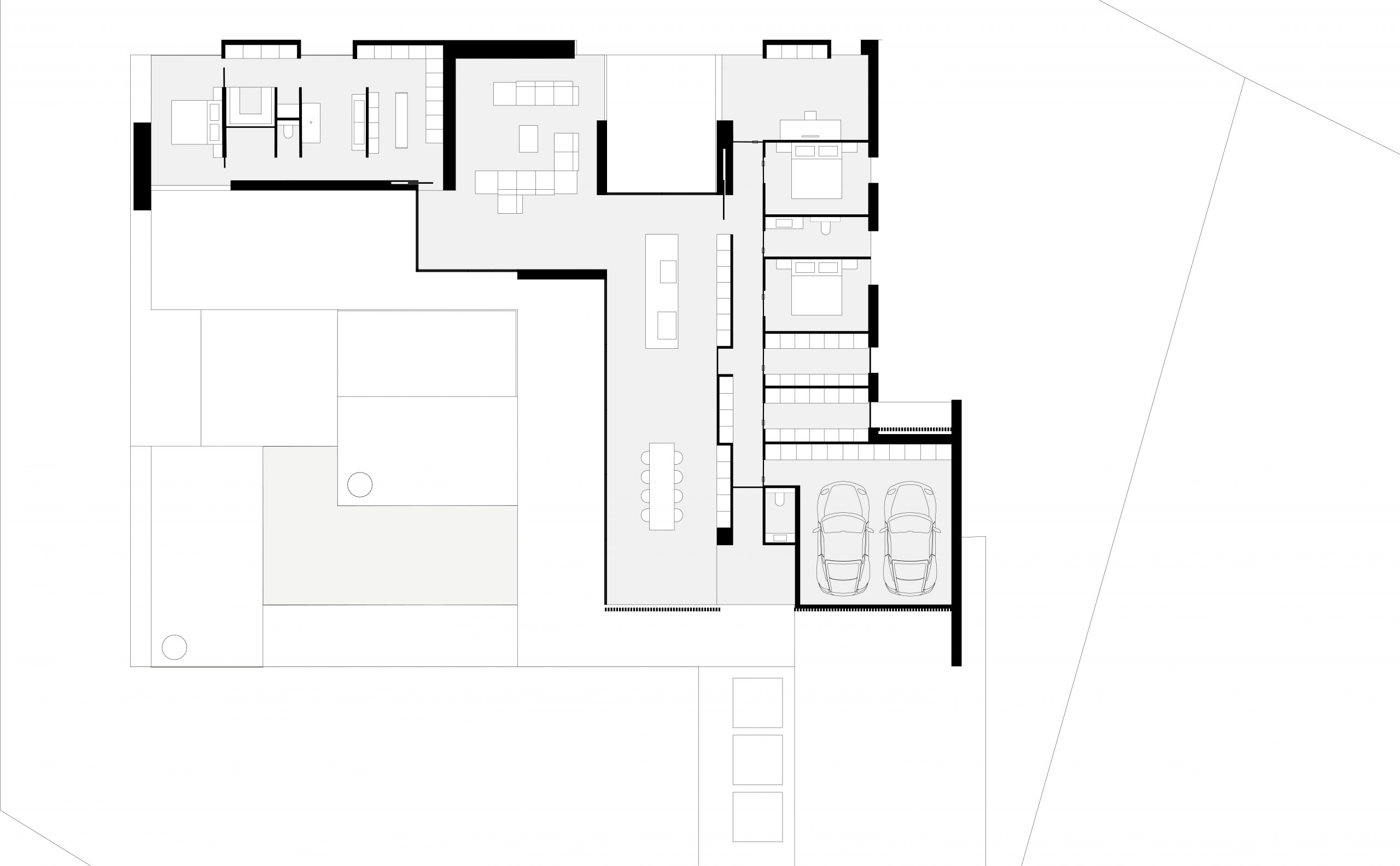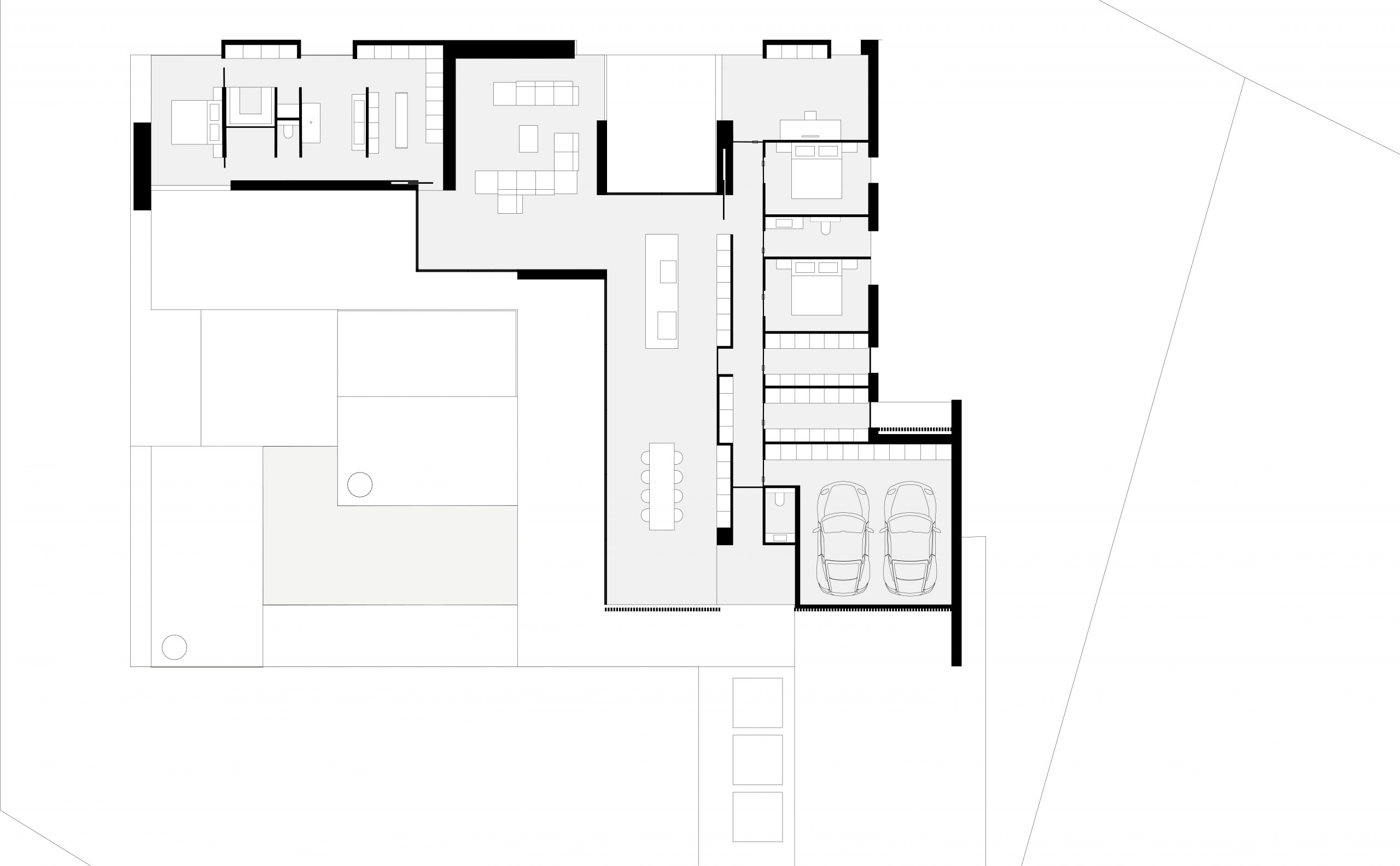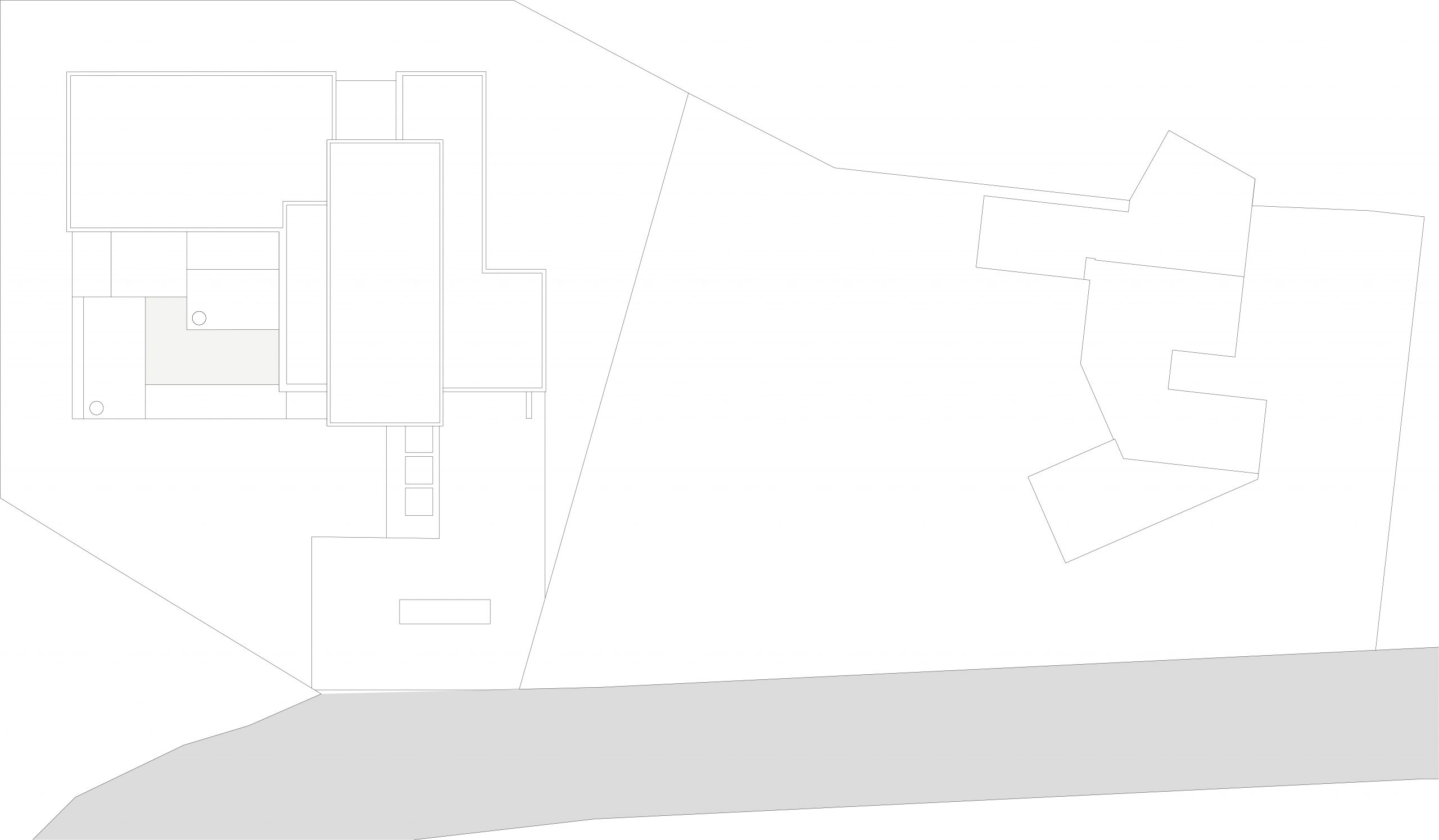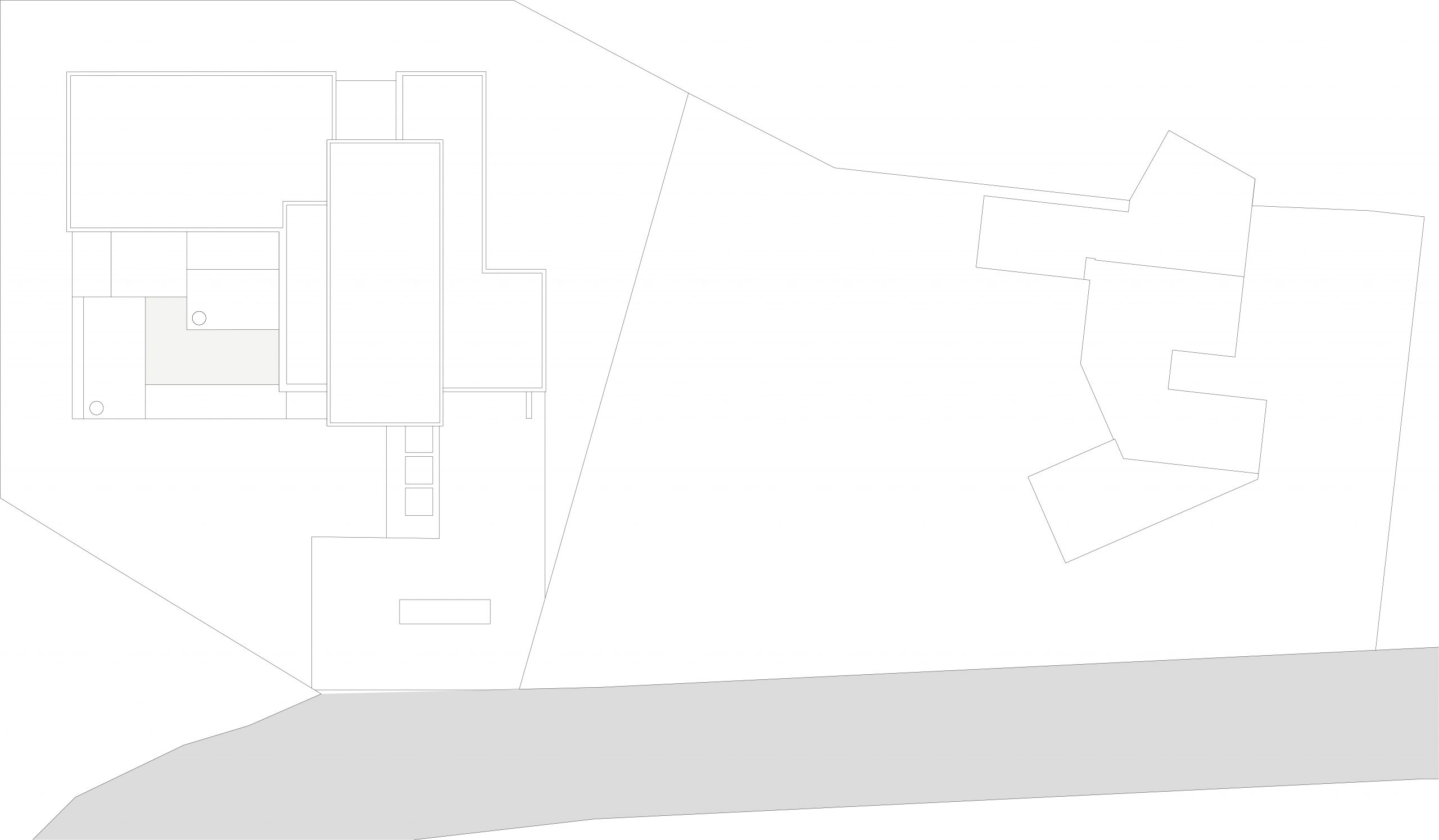 Interior minimalism
luxury in simplicity
The minimalist details in the exterior are continued in the interior. Subtle details, such as the concealed window frames used in the exterior, now return to the interior. The material usage is reduced to four main textures: concrete, wood, grey stucco and glass. By limiting the number of materials used, the interior creates a calm atmosphere, reflecting outdoor luxury. From the interior, minimalist architecture frames the garden beautifully, fading into the background while nature takes the stage.
Contact us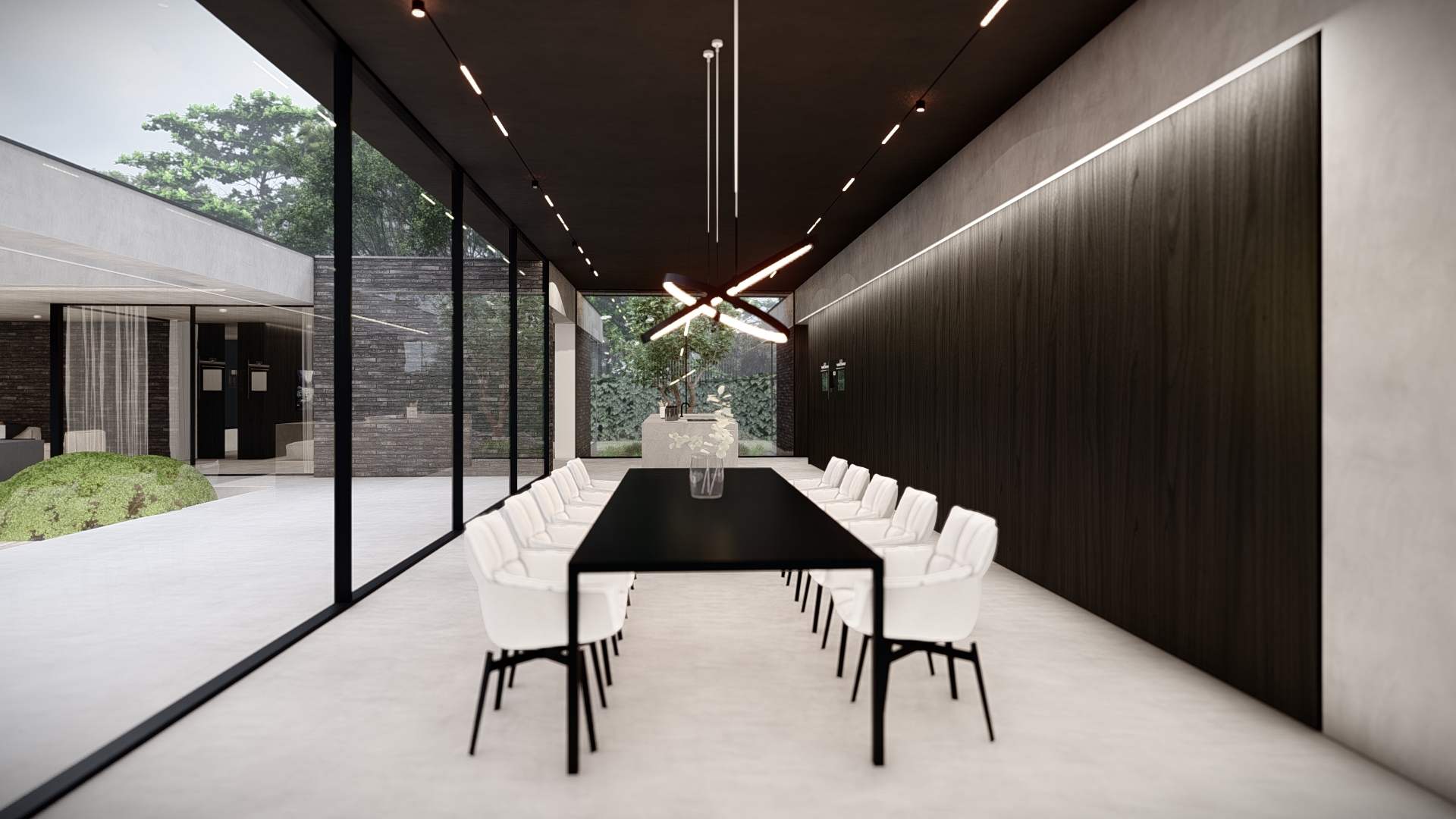 Dining room with glass connection
"Where single-level comfort is combined with pronounced lines and material. This brings the design to a higher state of architecture"
GEERT VERSCHUREN | Architect STATE
Patio
design
Detail in connection and transparency
Level House is shaped with strong lines and varying heights, a true architectural symphony. The lines extend inward, seamlessly blending indoor and outdoor spaces.
For a suitable connection between work and relaxation, the office visually embraces the living room through a beautiful garden patio, with natural lush greenery acting as a buffer. Petersen Tegl's hand-baked clay bricks lace the back of the house, grounding the design in earthly beauty while emphasizing the design's horizontality.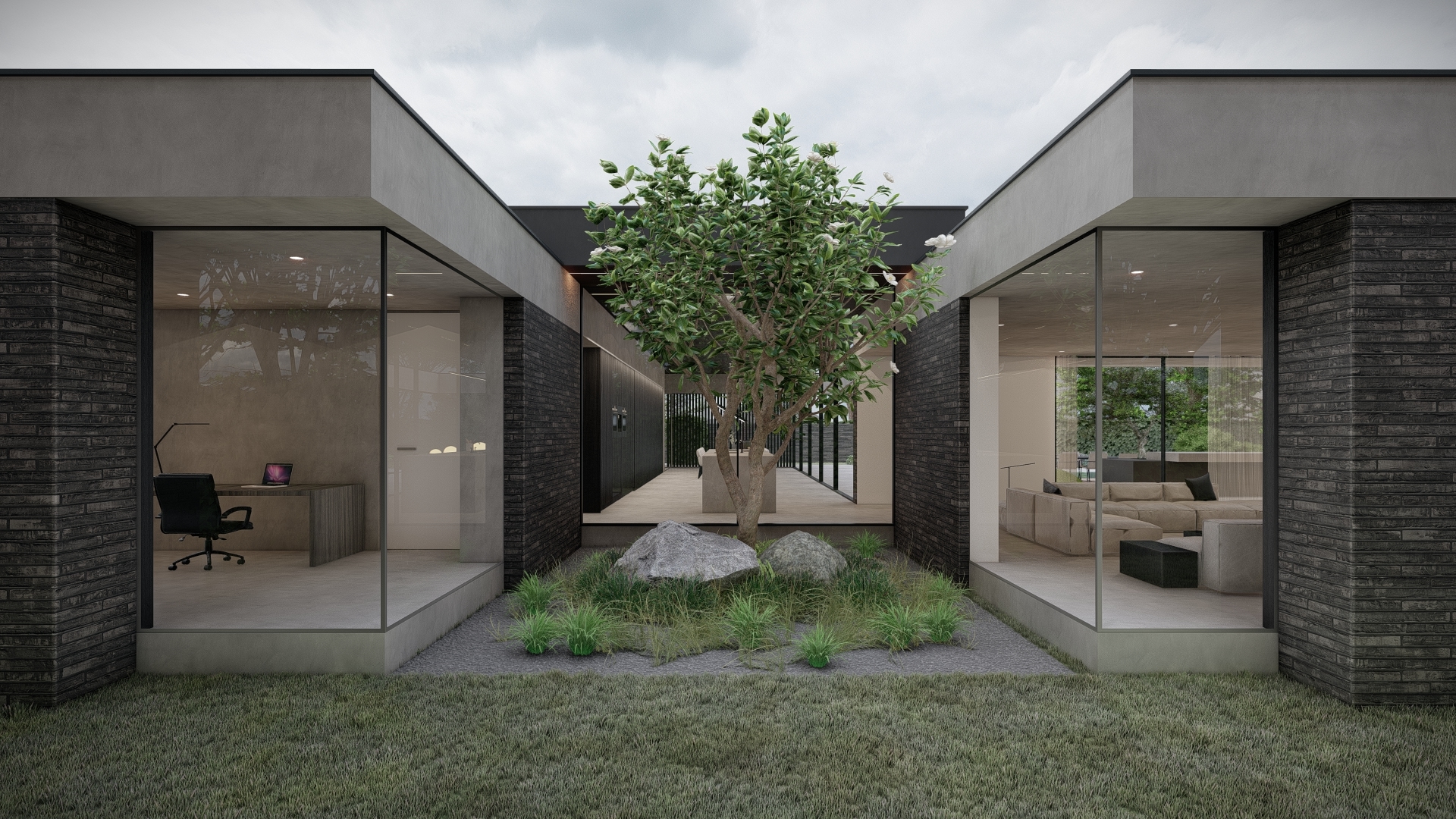 Patio functioning as a buffer between working and living
Minimalistic garage door
DifferentDoors is used for the garage entrance, seamlessly blending it with the wooden façade slats.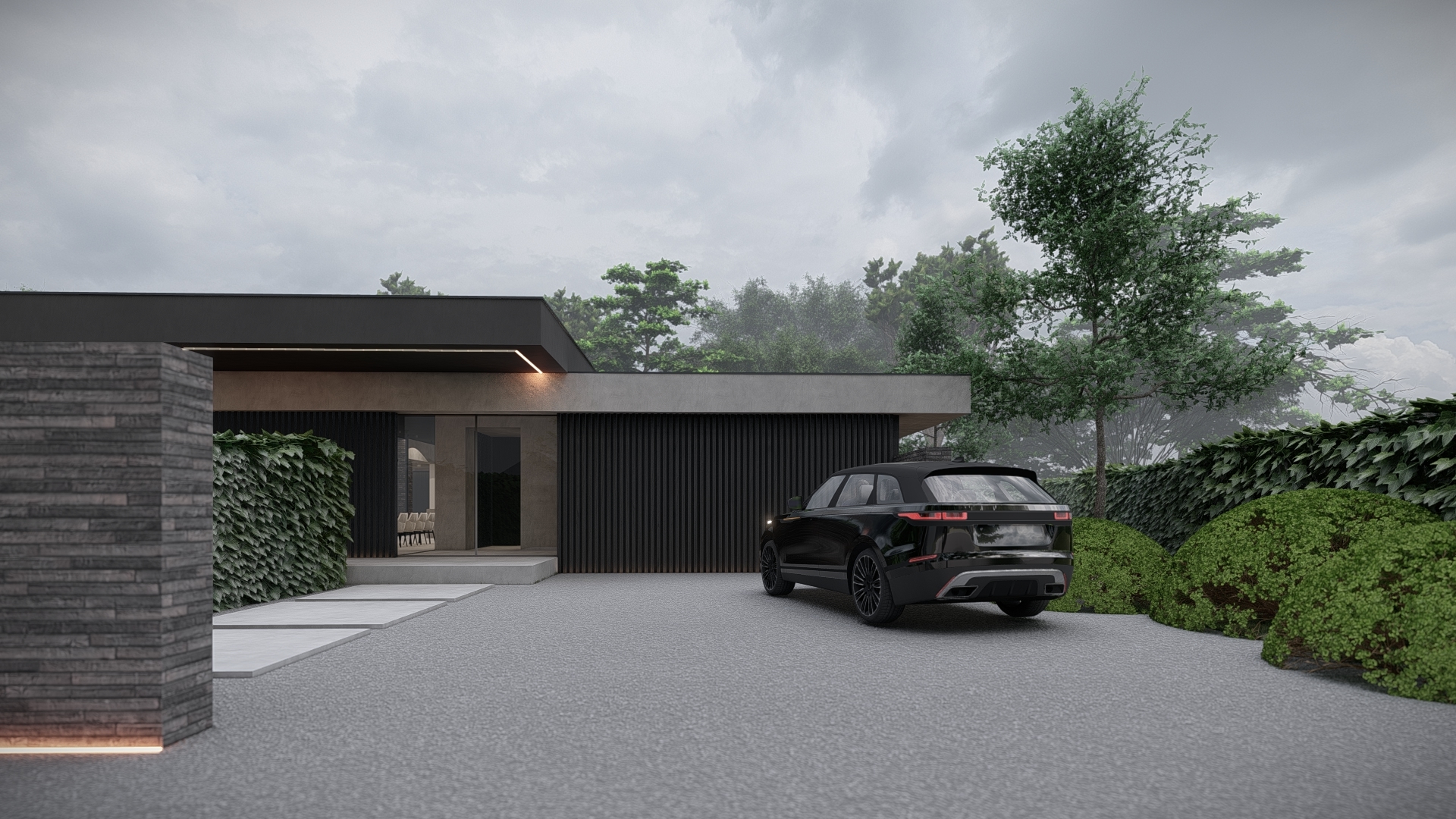 Outdoor fireplace as structural element
In level house, structural design is nearly invisible. The outdoor fireplace functions as a structural element for the 5 meter roof extension.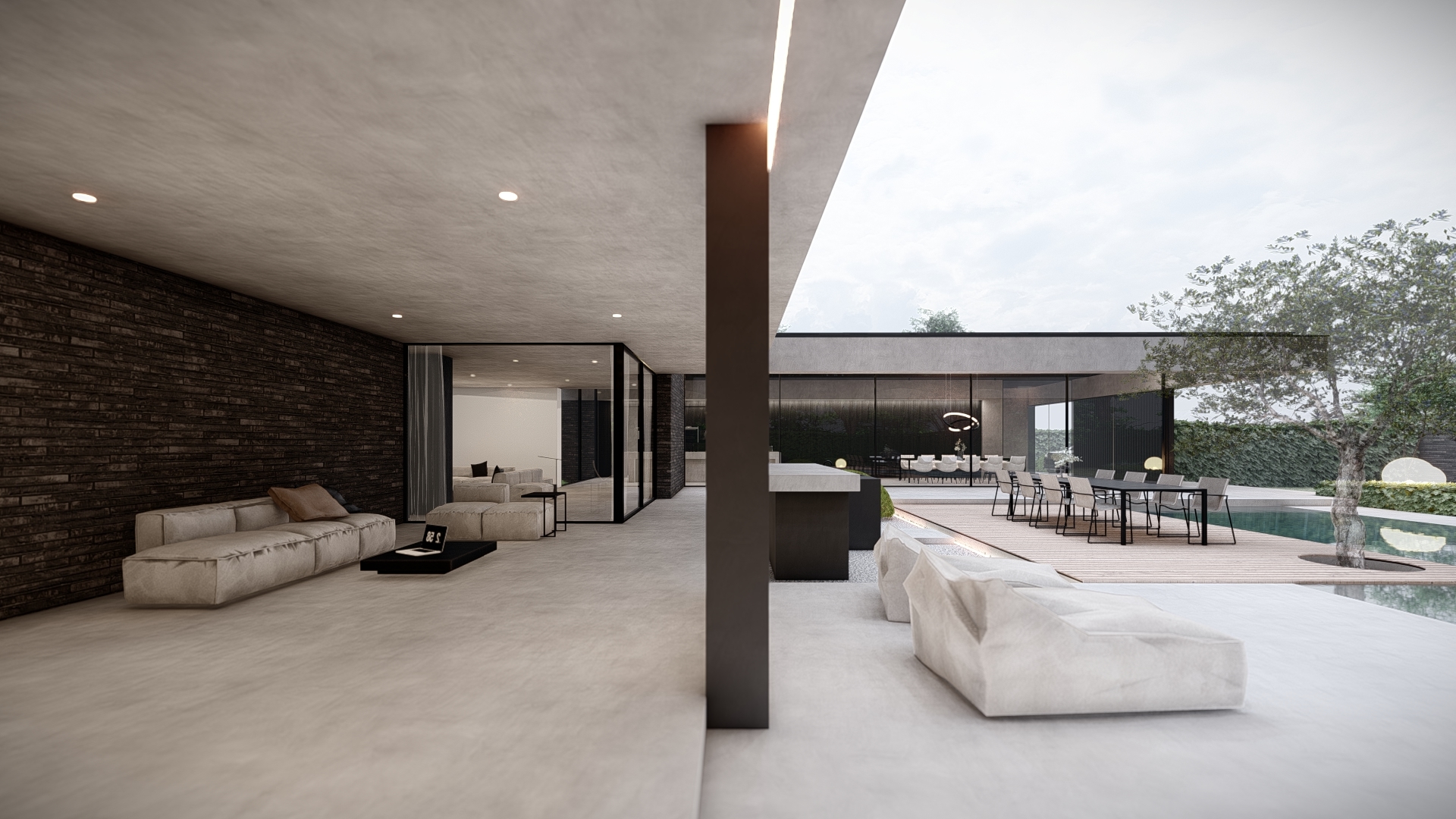 Get in touch
with us
Let's connect
We love to collaborate with
ambitious clients. Let's connect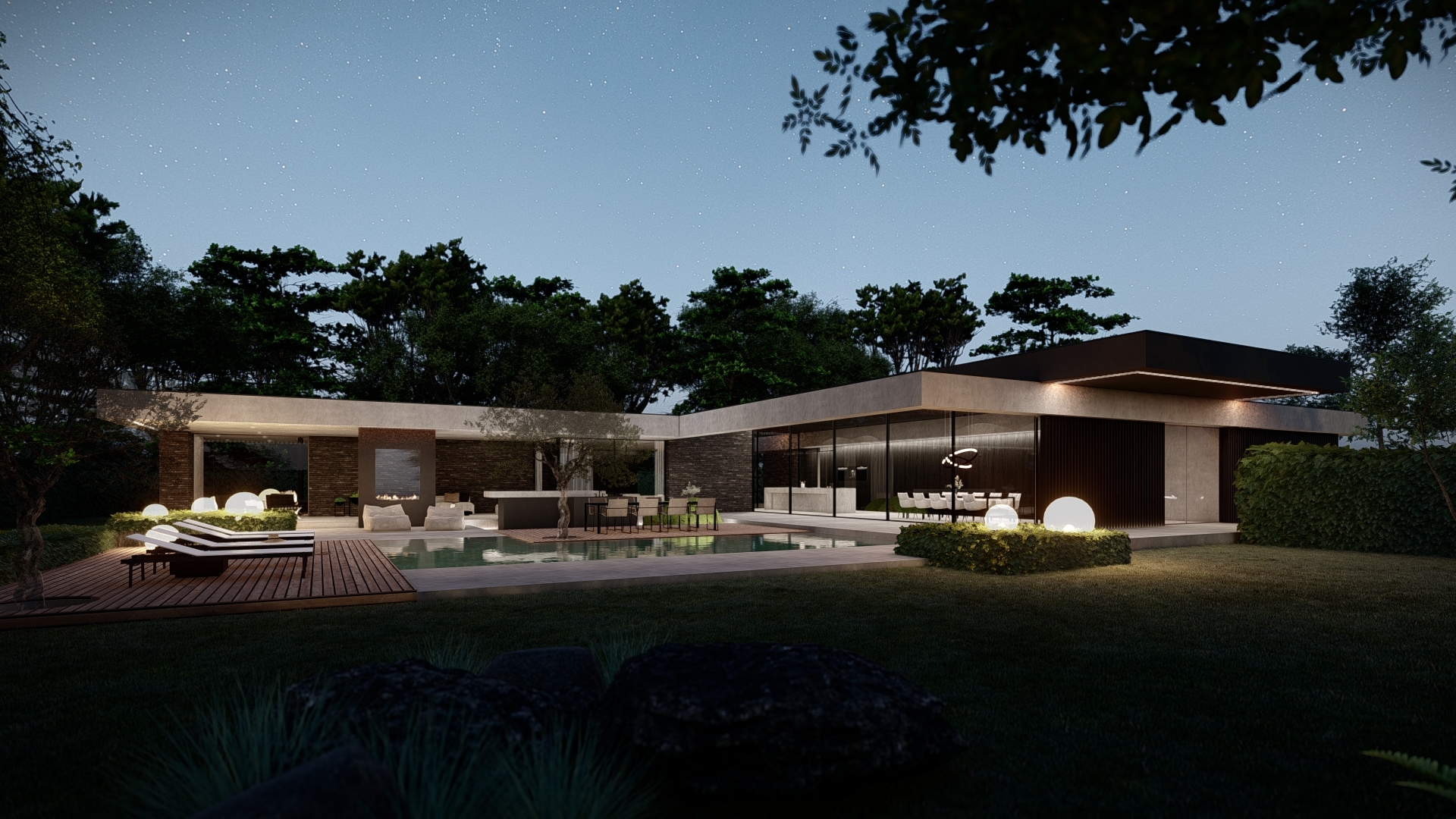 NEXT PROJECT
---
ANGLE HOUSE:
Residential Villa
280 m2
The Netherlands
VIEW PROJECT