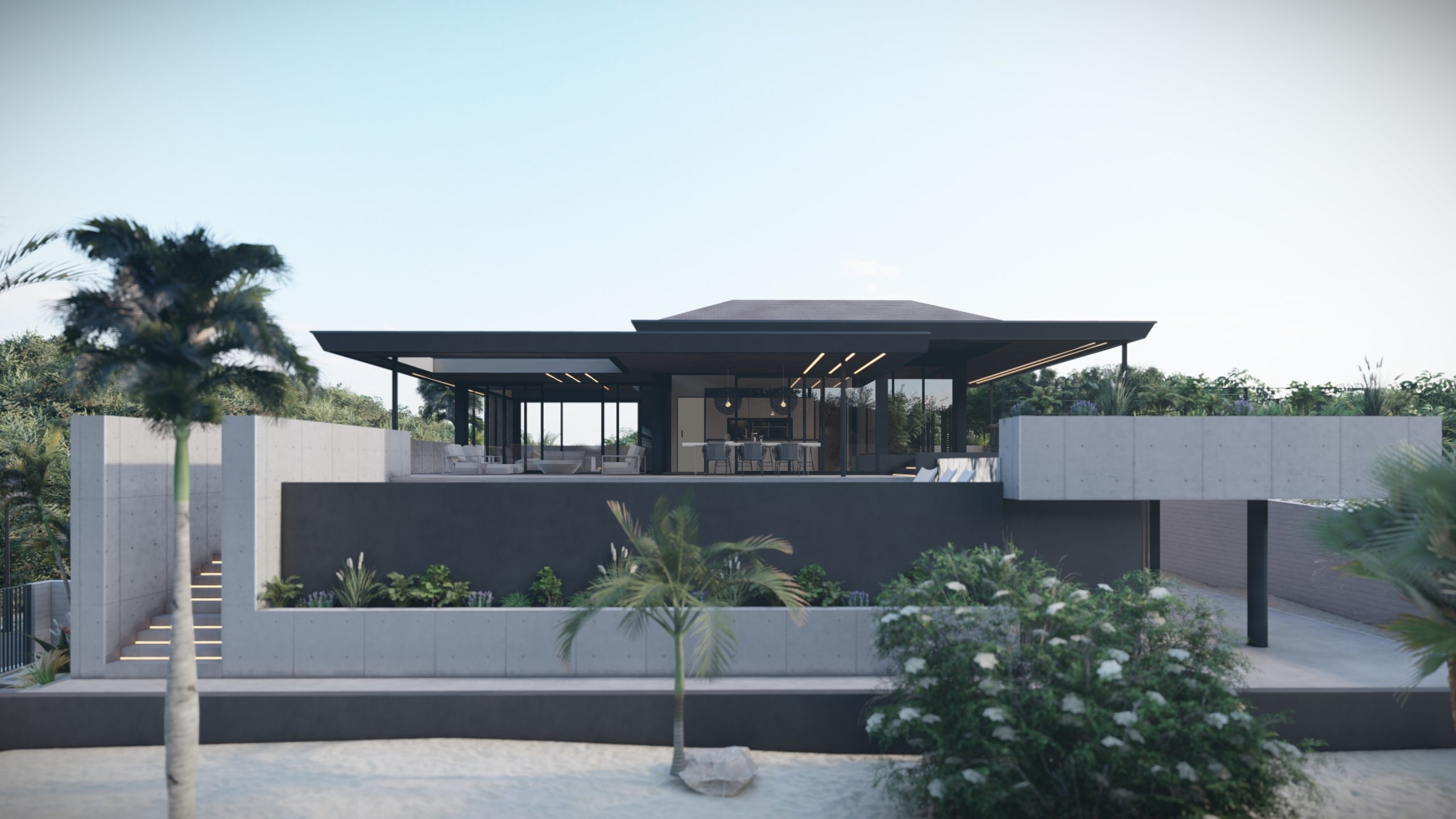 Vista
Royal H3
Vista
Royal H3
01 /
Project informationPERIOD
2022TYPE
RESIDENTIAL, VILLALOCATION
VISTA ROYAL - CURACAOSIZE
600m2STATUS
IN PROGRESS
Raw, Bold, Exclusive
Raw materials, bold architecture, exclusive character, that sums it up for Vista Royal H3. This new to be built villa is what STATE is all about. In situ poured concrete finishes in walls and floors, wooden finishes in ceilings and big glass openings maximizing the views over the Caribbean sea and salt pans.
The main indoor and outdoor living areas are situated on the second floor, where you'll also find the large swimming pool + jacuzzi and outdoor kitchen. Below 5 large suites will be constructed, each having enough privacy and all connected to a large second living room.
Download brochure
lIVING ON THE SECOND FLOOR
CONCEPT
To maximise views over the Caribbean sea, and salt pans the concept for H3 evolves around living on the second floor. High ceilings and large openings in the various facades give this villa an open structure to the outdoor living areas such as the tile finished swimming pool + jacuzzi. The bedroom and outdoor kitchen area blend flawlessly by incorporating a wooden floor in both areas; only to be devided by big glass doors and windows.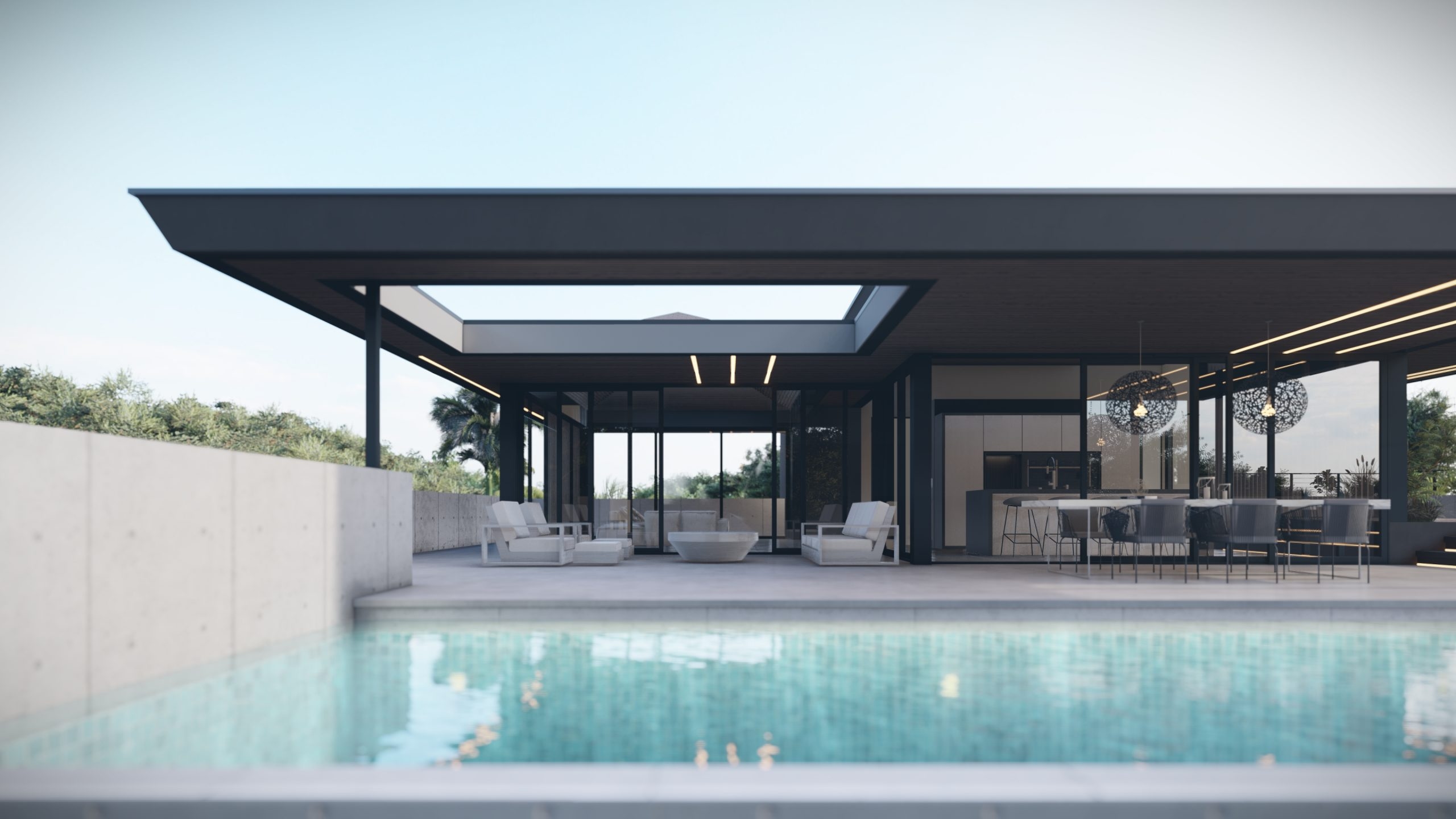 Minimal frames displaying the view
Used materials
Only the
essential
Contrasting colors and materials brought together, to create an exclusive villa concept. Natural materials such as in situ poured concrete wall elements + Wooden ceilings and facades combined with black aluminium doors/windows + black stucco blend in flawlessly creating a unique concept for the Caribbean.
The large black aluminum doors and windows add to the spaciousness of the main indoor and outdoor living areas, opening up the villa to enjoy the beautiful views.
If a building becomes architecture, then it is art.
Arne Jacobsen
PLAYFUL HEIGHT DIFFERENCES
The floor plan of the second floor consists of two floor levels, making sure the living room and kitchen are extra spacious whilst giving the master bedroom a more intimate look and feel.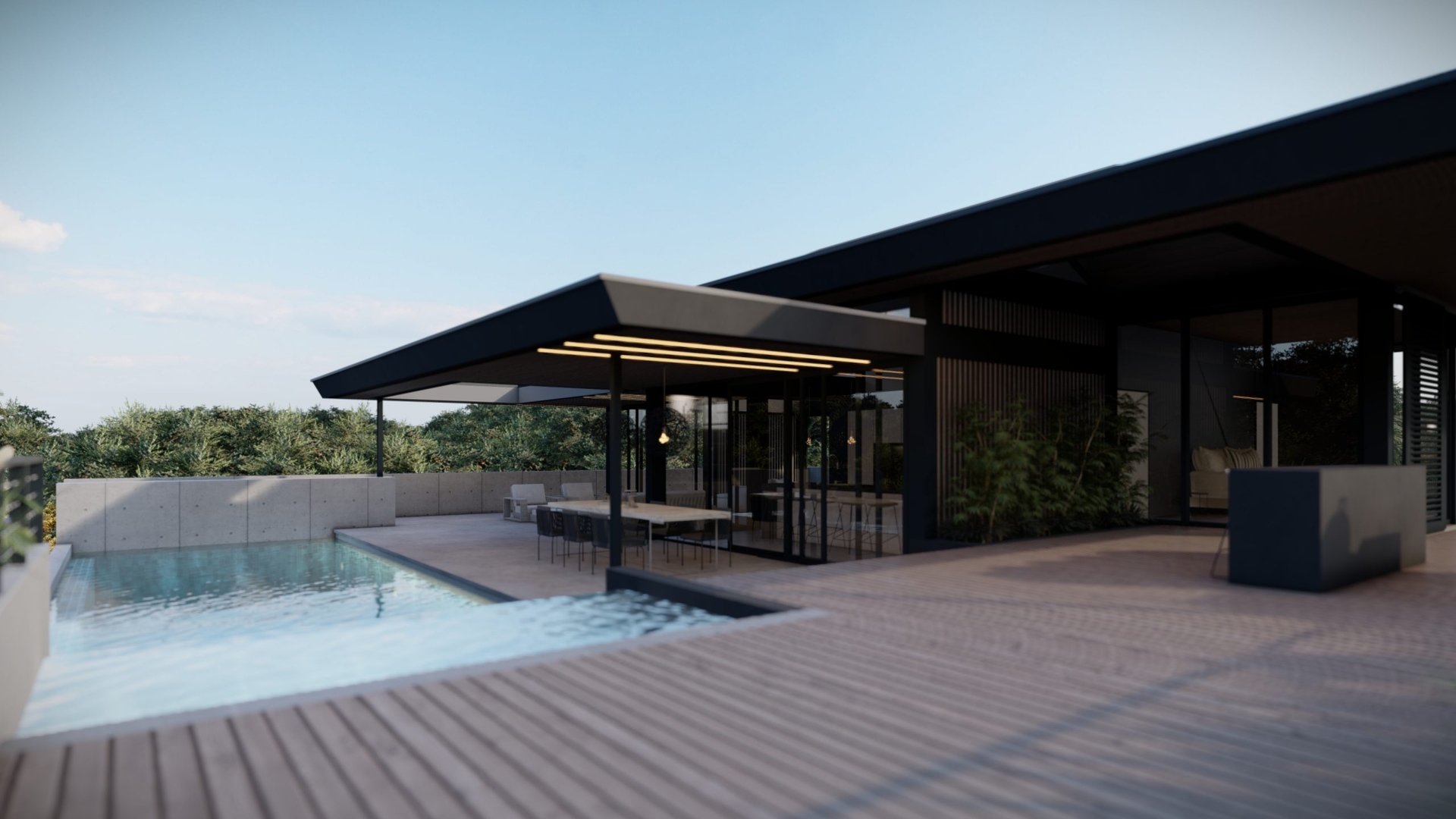 OPEN KITCHEN AREA
The kitchen situated in the center of the second floor is the heart of the house, connecting the indoor and outdoor living areas, master bedroom and 5 luxurious suites below.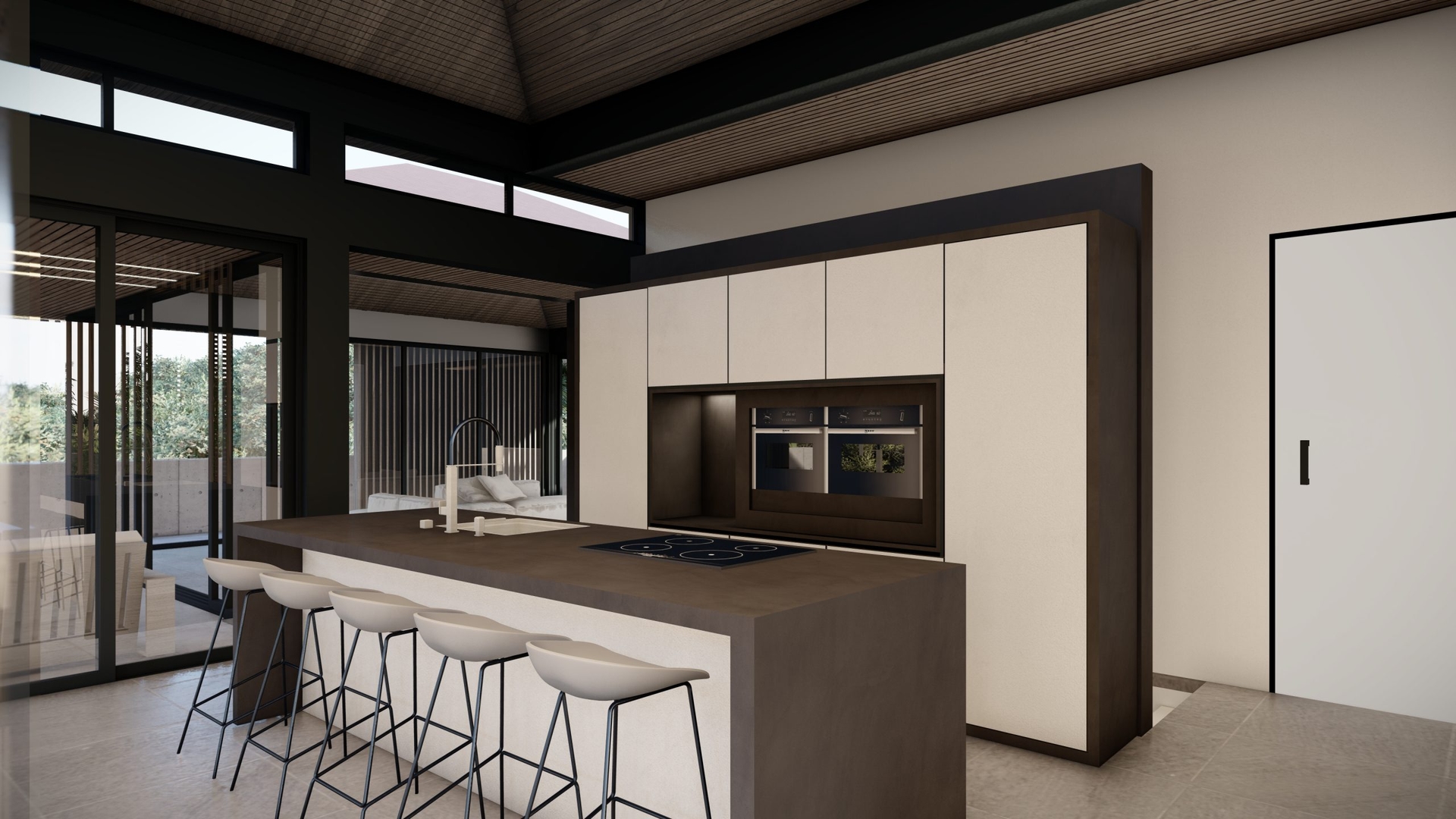 GET IN TOUCH
WITH US
GET IN TOUCH
WITH US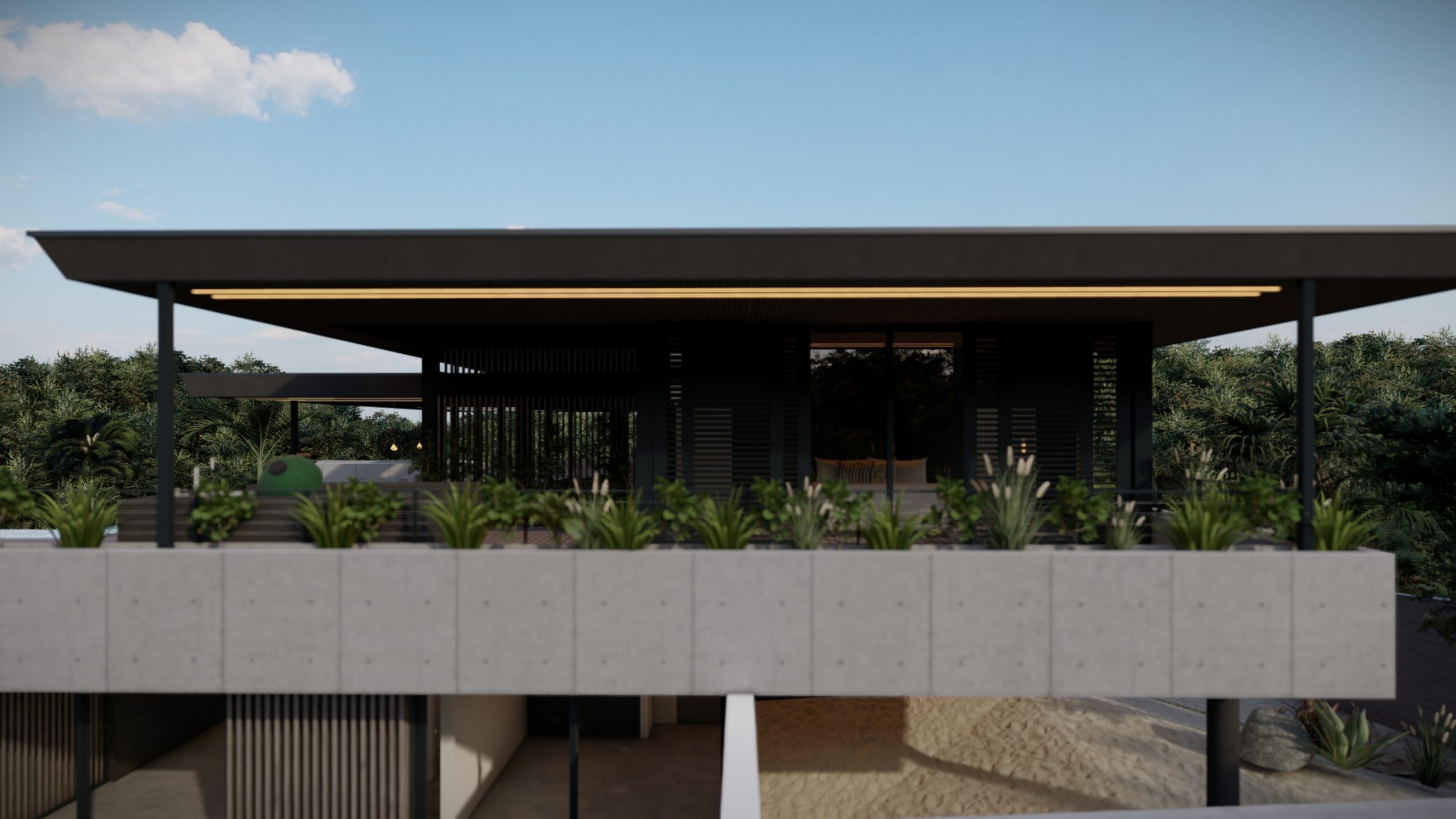 NEXT PROJECT
---
CORAL ESTATE 810:
Residential Villa
300 m2
Coral Estate – Curacao
VIEW PROJECTS