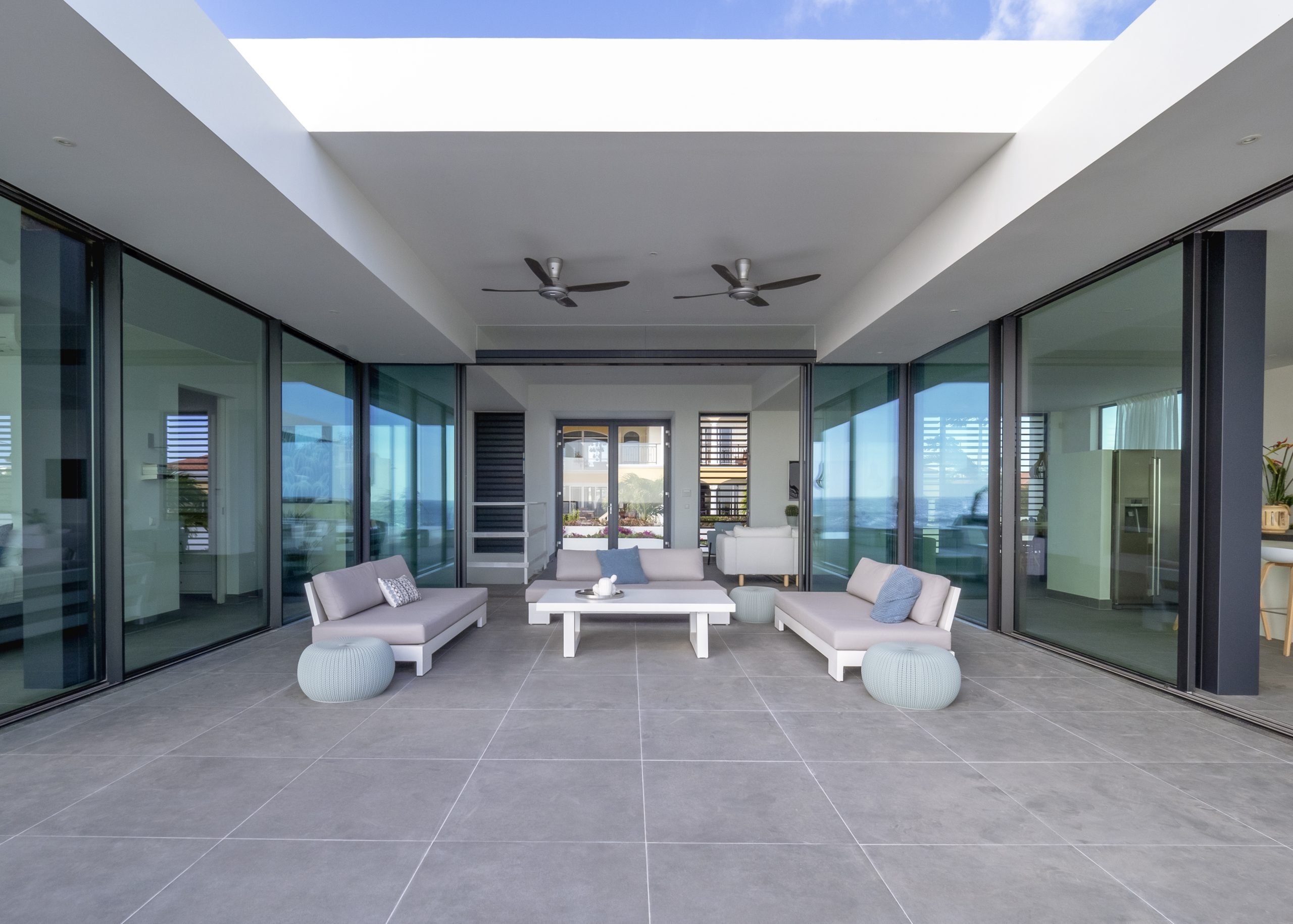 Vista Royal U10
Vista Royal U10
01 /
Project informationPERIOD
2018AREA
650 M2LOCATION
Vista Royal - CURAÇAOLORUM IPSUM
2035596
Creating a villa that optimizes the views over the Caribbean sea, without sacrificing privacy from the neighboring villa located directly behind this holiday home was the starting point for this concept. The villa consists of three cubistic shapes, opening up the main living areas and master bedroom to the outside living areas and pool.
One of the main features of this villa are the glass facades connecting seamlessly, making the main volumes seem to float. Below 5 bedrooms with ensuite bathrooms are situated. A private beach volleyball court completes this astonishing villa.
Download brochure
Blending spaces in the interior
Blending spaces in the interior
Project
information
The large glass sliding doors connect seamlessly creating a direct connection between the main indoor areas and large outdoor area combined with infinity pool.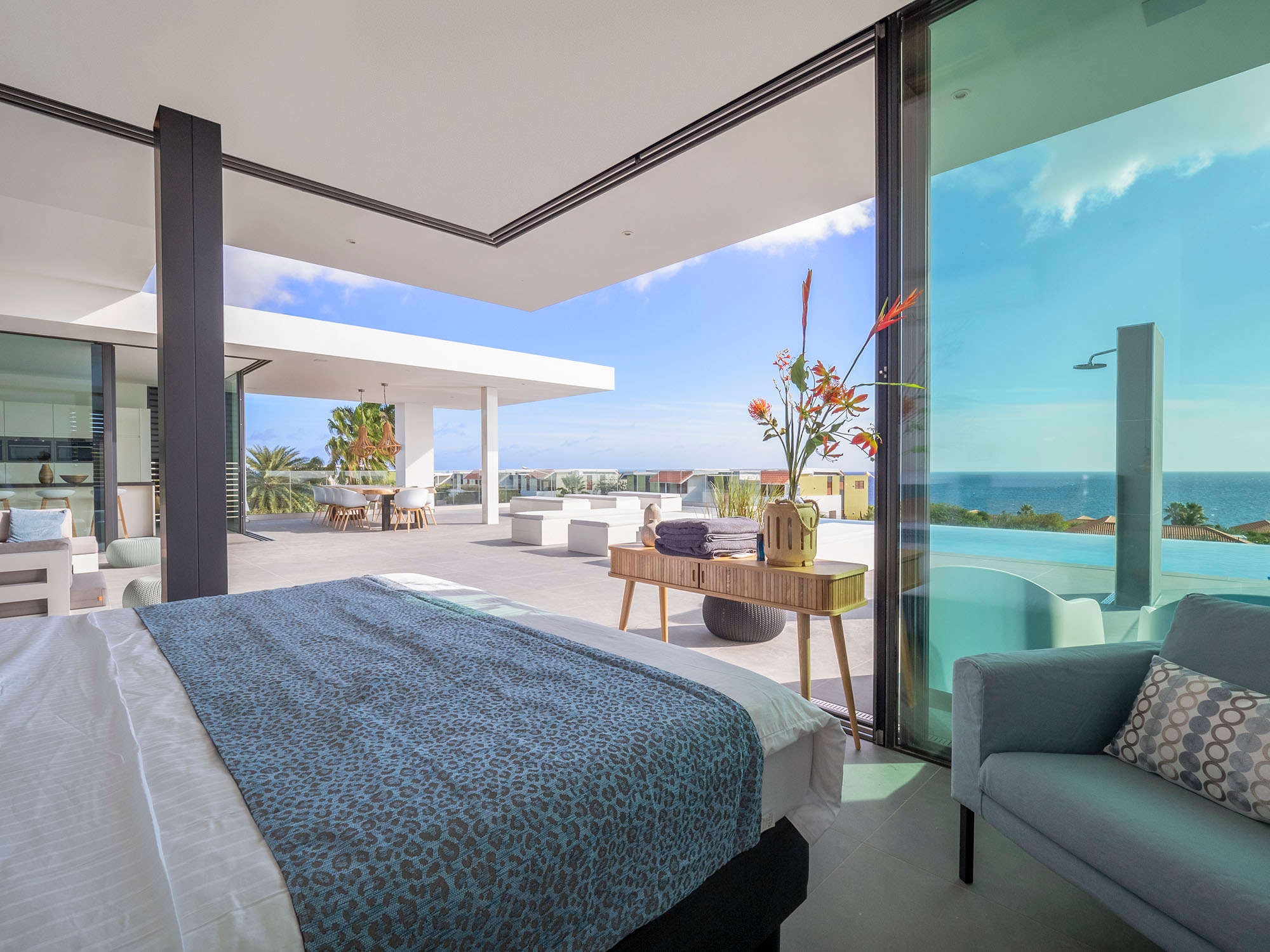 Used materials
Volutpat
pulvinar risus
The material use for this minimalist villa was quite straight forward; white stucco forms the base material to accentuate the main shapes of the villa, especially on the second floor.
Large minimalistic glass facades are used to open up and connect the main living areas to the large outdoor living area and pool, whilst large light grey floor tiles are used to make sure the indoor and outdoor areas merge perfectly.
First floor
The first floor consists of five large bedrooms with ensuite bathrooms, a two car garage and technical room. Outside a private beach volleyball court has been created.
Download brochure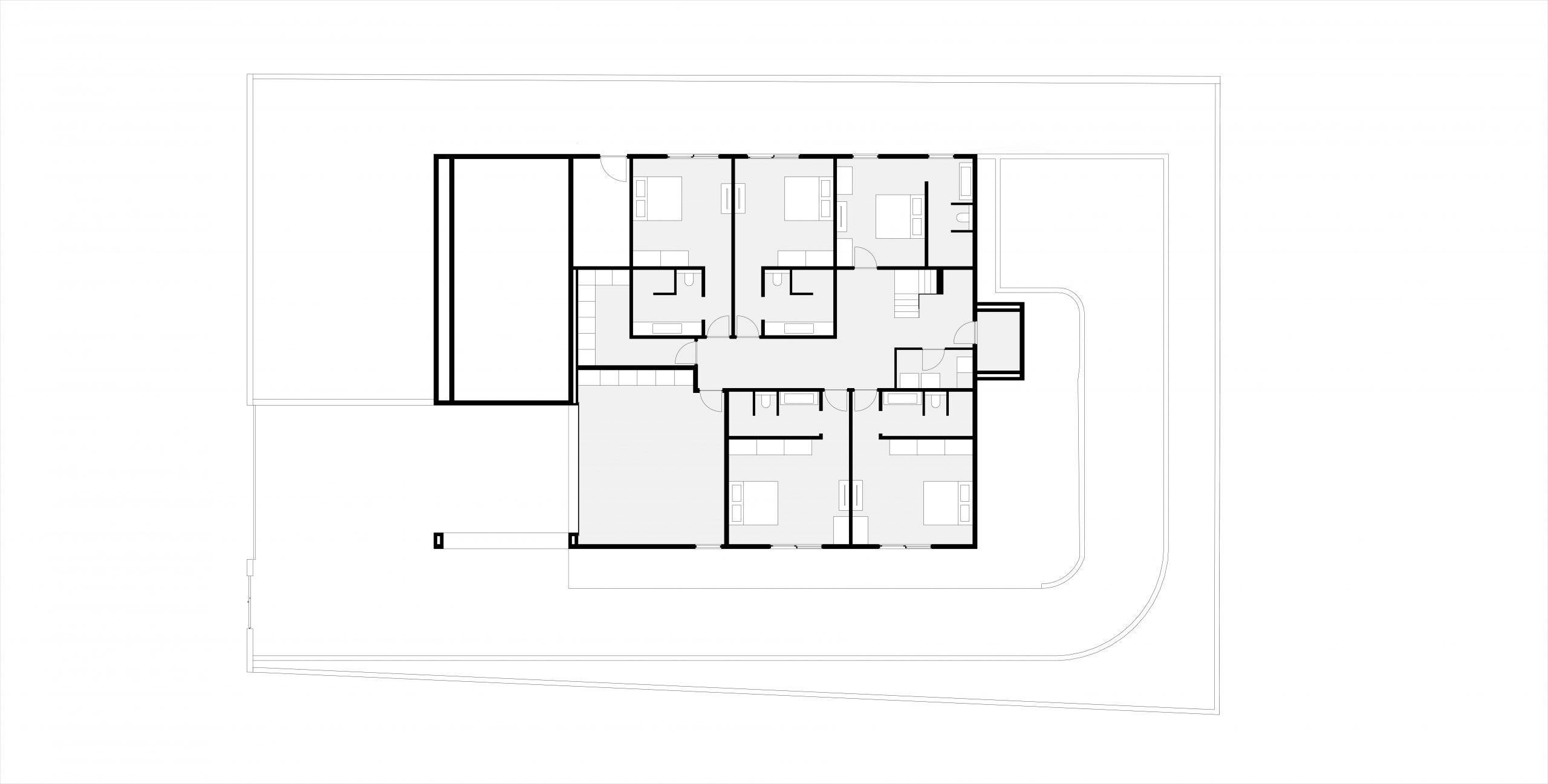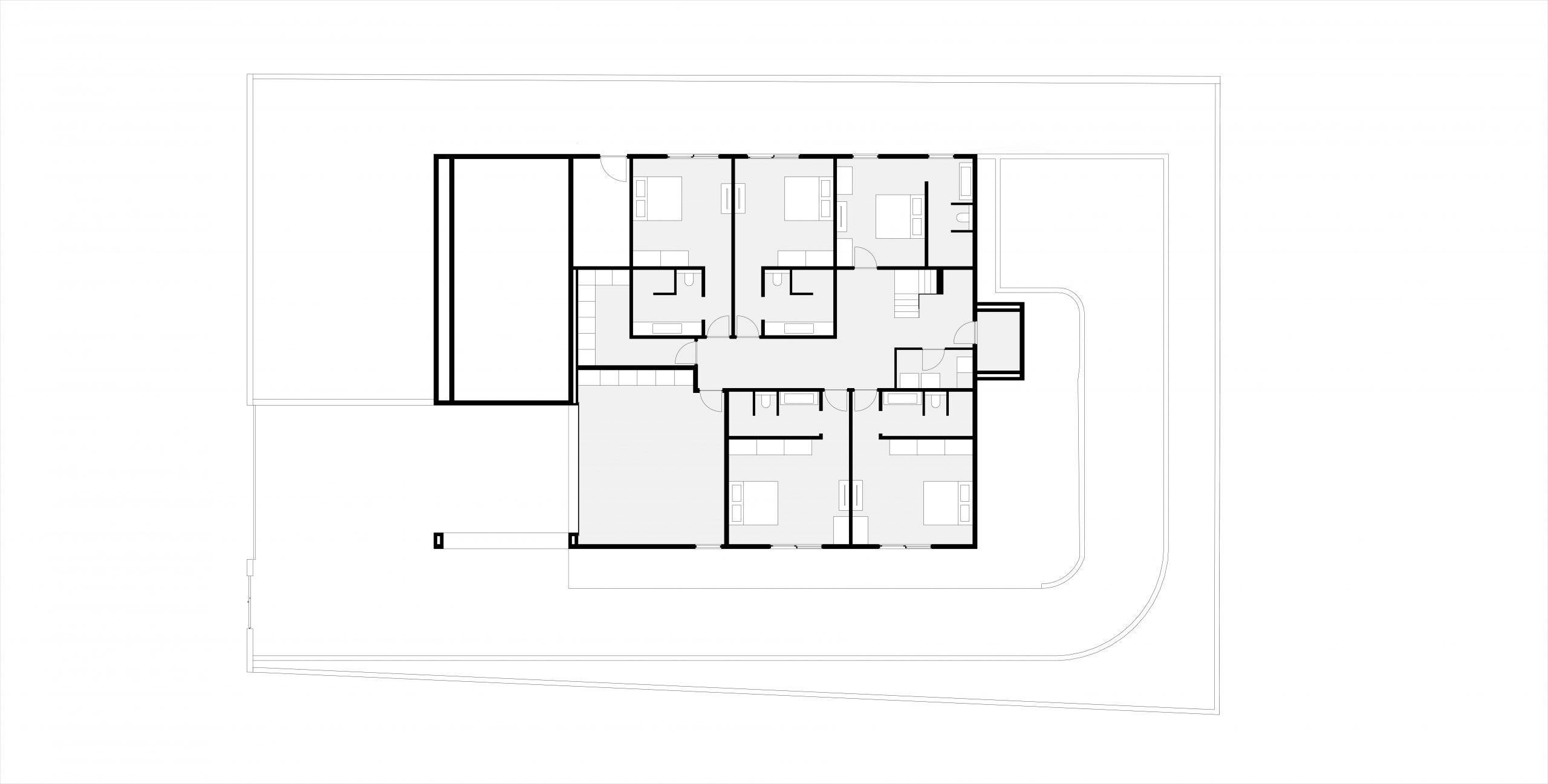 Second floor
On the second floor the kitchen, living room and master bedroom + bathroom and walk-in closet are situated. Combined with the large outdoor living area and infinity pool, the second floor makes up for one huge indoor/outdoor living area.
Download brochure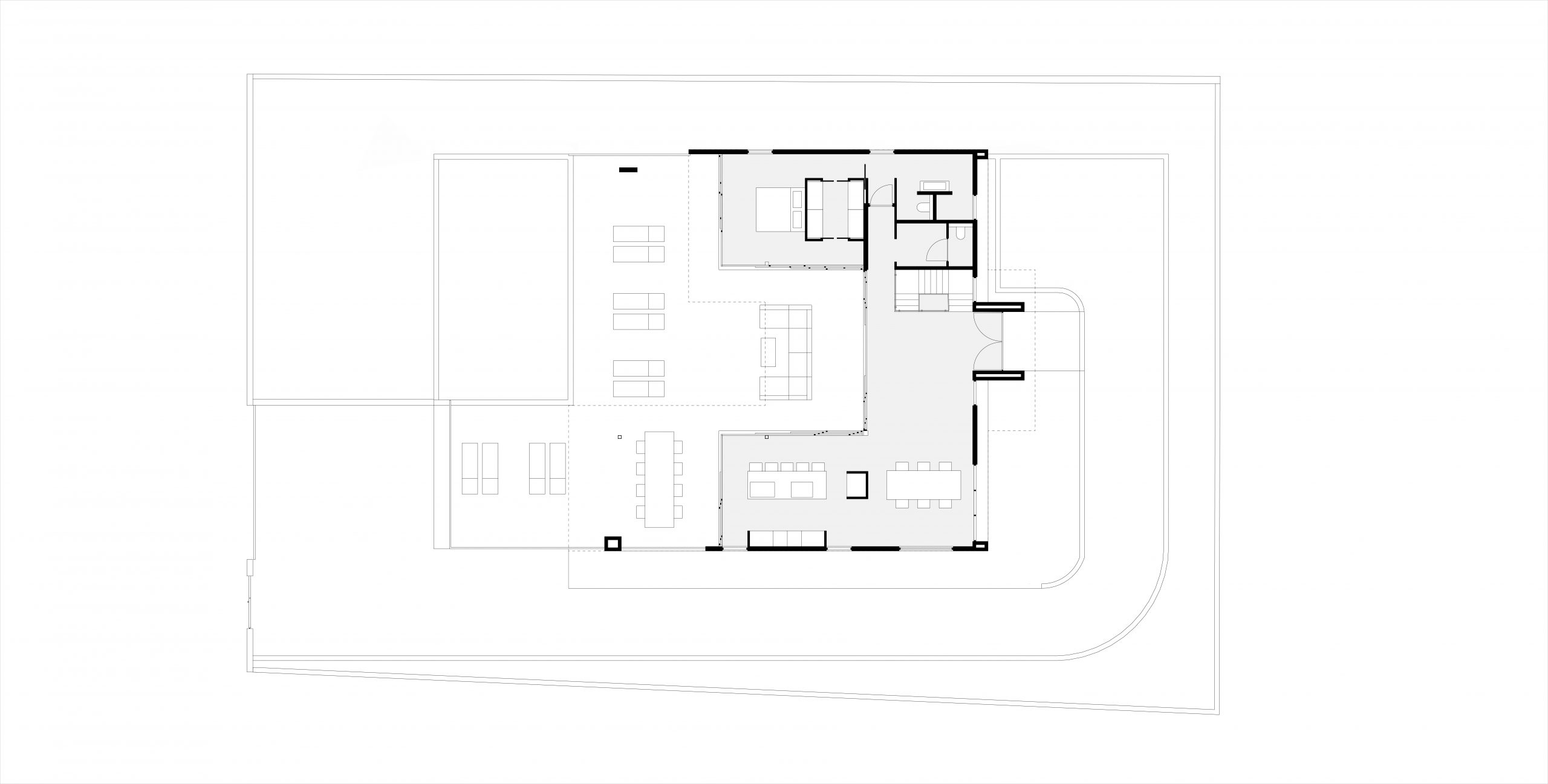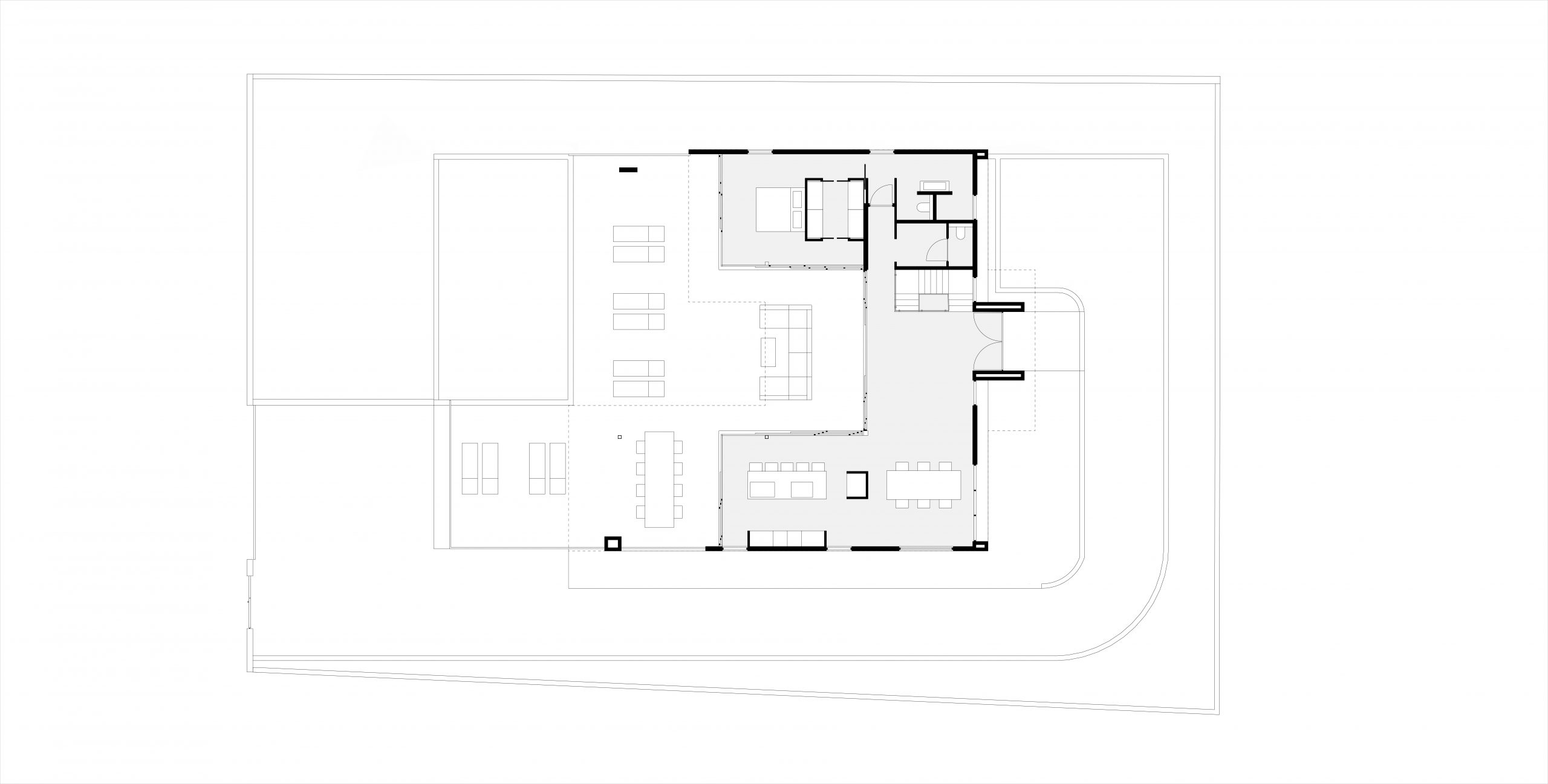 TOP VIEW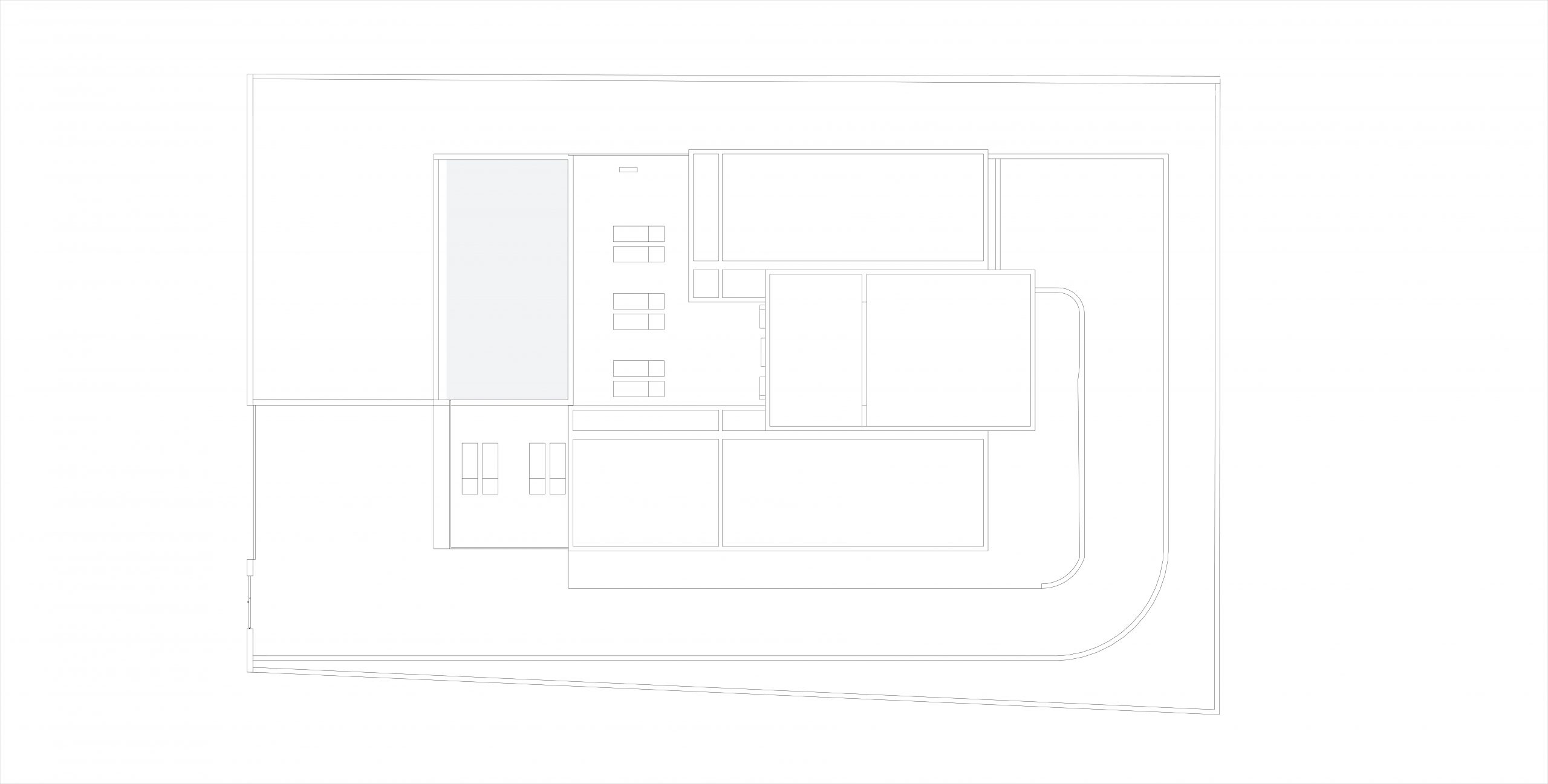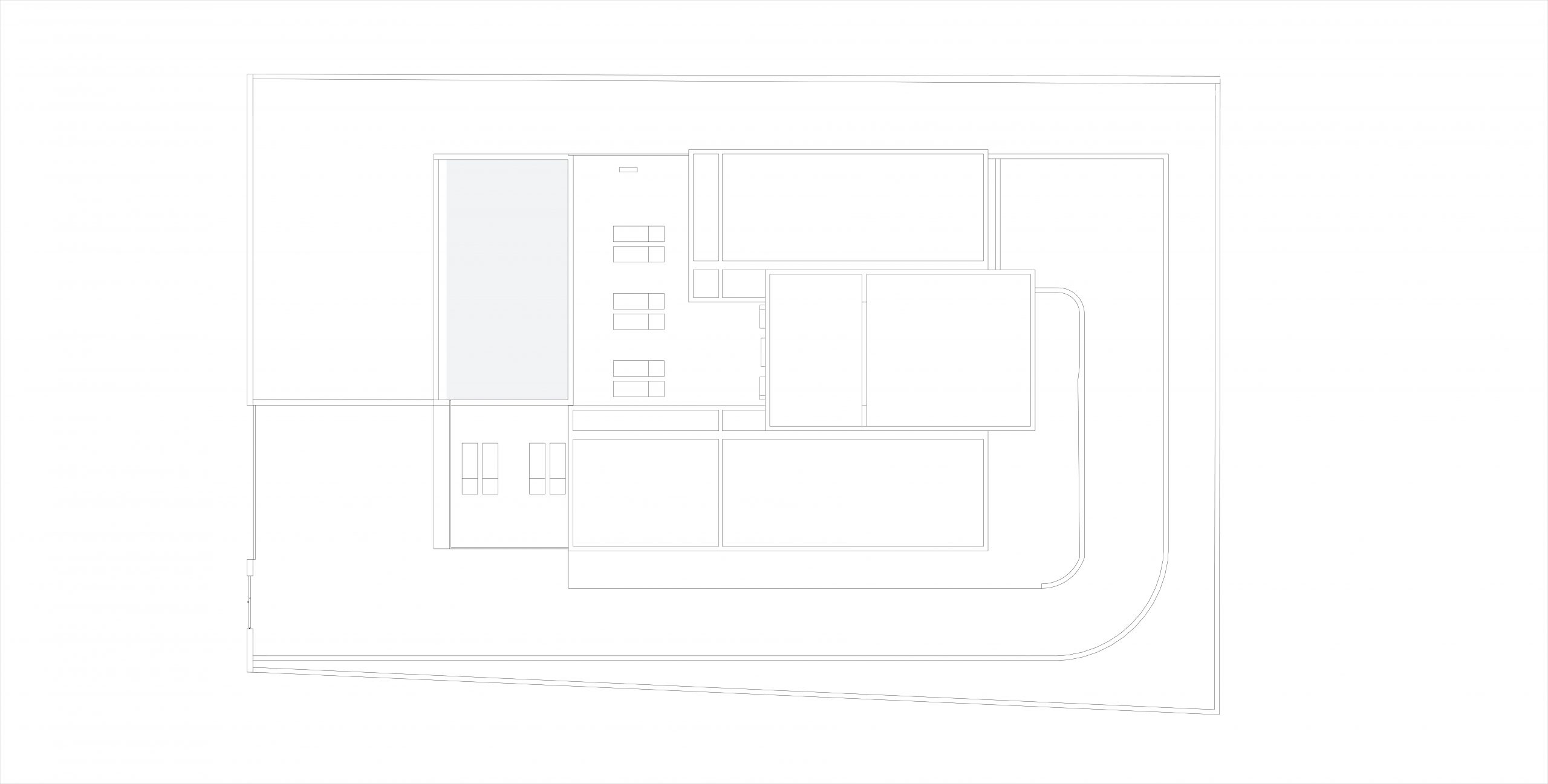 "Abstracting the concept, designing the minimal"
Geert Verschuren / Architect STATE
FLOATING VOLUMES
Seamless glass facades open up the kitchen area to the large covered and uncovered outdoor areas.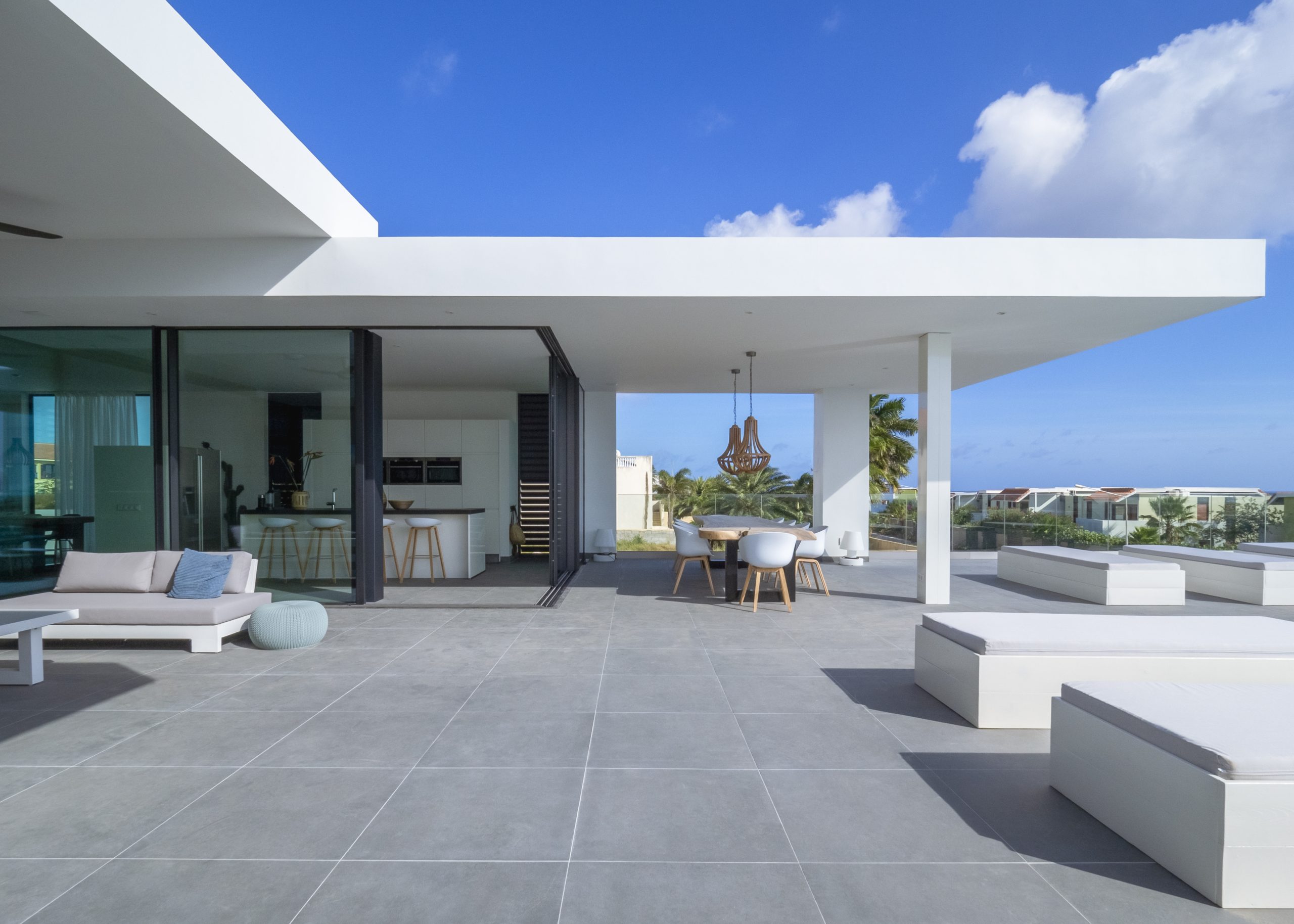 OPEN FLOOR PLAN
An open connection between the master bedroom and main living areas is created, whith all areas having their own unique views over the Caribbean sea.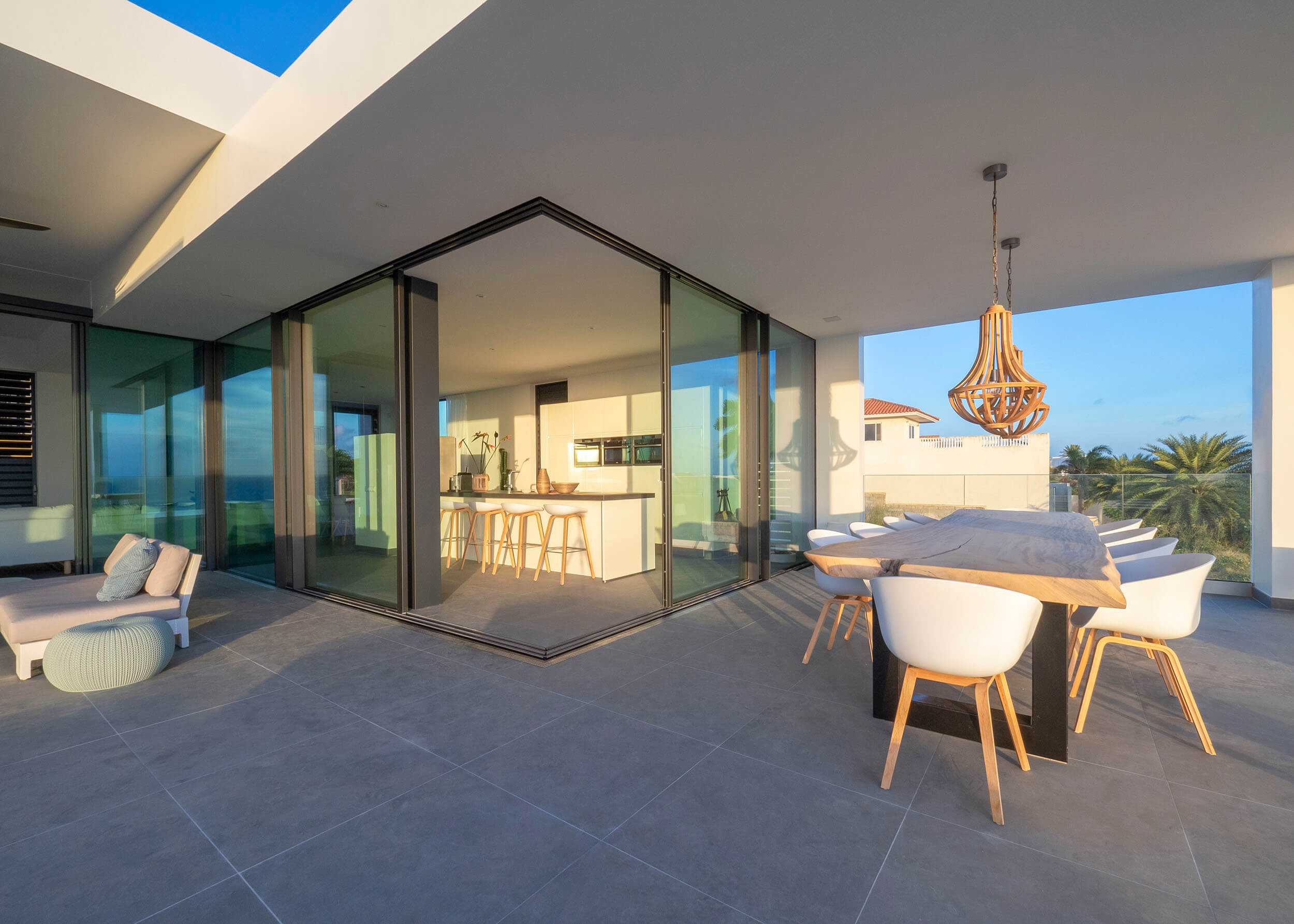 Get in touch
with us